About Lucia
Lucia Reardon is a licensed and ASHA-certified (American Speech-Language-Hearing Association) speech-language pathologist who provides services to children, adolescents and adults who struggle with challenges in the areas of verbal, nonverbal and social communication and executive functioning. She specializes in devising strategies and skills in the areas of receptive language, expressive language, perspective-taking, conversation, emotion awareness and management, social interaction and executive functioning. Lucia teaches cognitive behavioral skills and planning, organization, memory, time management, and flexible thinking skills to help her clients interact successfully and confidently in the classroom, with friends and family, with co-workers and with the world at large.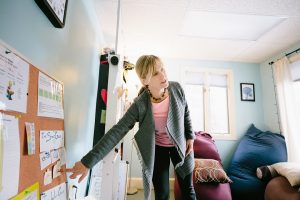 Lucia was born and raised in New York City and spent every summer in Bayside, Maine with her family. Following two years of undergraduate study at Connecticut College, she moved to Italy for three years where she studied medieval history at the University of Bologna and became fluent in Italian. She spent one summer excavating a 3rd-century Etruscan town and the mystery of the Etruscan alphabet's unknown origin ignited a passion for language and communication that has endured. Lucia returned to the United States, enrolled in Hunter College in New York City and studied social and cognitive psychology and Italian literature and theater. During this time, she first volunteered and then worked as an Assistant Teacher at the Payne Whitney therapeutic nursery of New York Hospital, a special purpose pre-school program for children with autism. The program followed the principles of Dr. Stanley Greenspan's work, Floortime™, a revolutionary approach that celebrated each child's uniqueness, concentrated on quality of life and created emotionally meaningful learning exchanges to help the child increase his or her strengths and abilities. Lucia graduated summa cum laude from Hunter College with a double major in Psychology and Italian.
Lucia then moved to Maine and earned a Master of Arts degree in Communication Sciences and Disorders from the University of Maine at Orono.  While pursuing her graduate degree, she worked as a Developmental Therapist under the supervision of a Rutgers University ABA (Applied Behavior Analysis) specialist with pre-school children with Autism Spectrum Disorders working with families in their homes.
Following the completion of her graduate degree, Lucia began her speech-language pathology career at Waldo County Hospital in midcoast Maine.  She worked for a number of years with children and adults with developmental disabilities, aphasia and traumatic brain injuries. She then moved to Portland, Maine and worked as a speech-language pathologist at Mark R. Hammond Associates, a speech and hearing center located in southern Maine. Lucia gained in-depth experience in Augmentative and Alternative Communication (AAC), which are communication methods used to supplement or replace speech or writing for those who are impaired in producing or understanding spoken or written language. She also worked with children in several area schools and continued to work with individuals with autism spectrum disorders.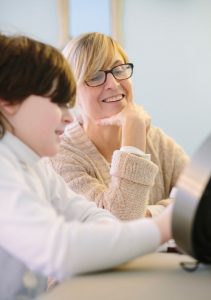 In 2005, Lucia opened her own practice Lucia Reardon Speech Language Pathology, LLC to focus on providing therapy and training services to people within her areas of primary interest and expertise: social cognition, social communication, and executive functioning.
Lucia has completed all three levels of Social Thinking™ Professional Training (clinical training) with Michelle Garcia Winner CCC-SLP, the foremost authority in the field of social thinking and treating individuals with social cognition deficits. Level I Basic consisted of three days of training in social thinking concepts, session observation and participation in discussions about core concepts related to treatment. Level 1 Assessment consisted of a review of the Social Thinking Social Communication Profile™ and its application, how Social Thinking™ differs from traditional behaviorally-based social skills therapy and the observation of the application of social thinking lessons across a range of students from elementary school age to high school age. The focus was on problem-solving, clinical decision-making and a review of the materials developed for the clinical sessions. Level 2 (Advanced) consisted of four days of intensive supervised training (no more than three professionals are trained at any one time) focused on planning, treatment, and note-writing for the clinical treatment of groups. The professionals were tasked with developing a Social Thinking™ curriculum, preparing therapy notes and running therapy groups with students from the clinic. Performance in this Level was evaluated with regard to therapy style and creativity, problem-solving ability within the sessions, and skills related to administrative tasks (clinical note-taking). This training provided Lucia with the knowledge and ability to develop and teach practical strategies that help her clients improve their social thinking abilities.
To enhance her clinical and counseling skills with families, Lucia underwent training in the Collaborative Problem Solving model developed by Harvard psychologist Dr. Ross Greene who pioneered problem-solving psychotherapy techniques for children and adolescents with emotional and behavioral disorders. Lucia received supervision and feedback from Dr. Greene on her use of the Collaborative Problem Solving (now the Collaborative and Proactive Solutions™) model. Over the course of 24 weekly, 90-minute group teleconference sessions, he assessed and evaluated Lucia's implementation of the model with behaviorally challenged children and their families.  She received her Certification for Providers in Collaborative and Proactive Solutions in May 2013.
Lucia has spoken at numerous schools and organizations to professionals, educators and parents on the topics of social thinking, social cognition and executive functioning and has provided consulting and training to these public and private educational institutions and governmental organizations:
Cape Elizabeth School District, Cape Elizabeth, ME
Cumberland Public School District, Cumberland/North Yarmouth, ME
Falmouth School District, Falmouth, ME
Old Orchard Beach School District, Old Orchard Beach, ME
Portland School District, Portland, ME
Yarmouth School District, Yarmouth, ME
Cricket Hunt, Freeport, ME
Friend's School, Falmouth, ME
Montessori School, Freeport, ME
North Yarmouth Academy, Yarmouth, ME
Waynflete School, Portland, ME
DHHS Vocational Rehabilitation
Sweetser Mental Health Organization
In December 2015, Lucia was one of four trainers invited to speak at the industry conference held at the Augusta Civic Center titled "Enhancing Self-Regulation." She spoke about the role of emotion in self-regulation and how social learning challenges impact executive functioning challenges in school.
In the summer of 2016, Lucia obtained certification in Telepractice through The Center for Speech Pathology Telepractice Training Course at Waldo County General Hospital, where she began her career as a speech pathologist.  This is a one of a kind training and is an accredited program by the American Telepractice Association.  Using this technology allows Lucia to treat clients who are unable to travel to her office, or who live in other states.  Telepractice uses a computer with a video connection to provide speech therapy to children and adults at home or in an office. The therapy connection is private and secure. Lucia brings her skills and individualized programming for each client through this medium.
Lucia draws upon her diverse interests in brain research, travel, art, theater and history to inform her practice.   She completed a 200-hour Teacher Certification and is a Registered Yoga Teacher in Hatha Yoga, which explores and balances the mind/body connection. She continues to deepen her knowledge of yoga through the practice and self-study of Ashtanga Yoga.
Lucia keeps abreast of research, news and evolving developments and understandings in her field to help teach her clients how to think about the social world in order to communicate more effectively. She has a gift for working effectively and compassionately with those whose communication challenges keep them on the fringe and outside the mainstream of life. Her ongoing and self-motivated learning continues through frequent attendance at professional conferences and reading the research and scholarship of experts in the field such as Sarah Ward, Patricia Prelock, Tony Attwood, Kari Dunn Buron, Simon Baron Cohen, Ami Klin, Barry Prizant, Brenda Smith Myles, Steven Gutstein, Dolores Gaus and Ross Greene, among others.  Lucia will forever be a student of Social Cognition, Communication, and Executive Function!
Awards and Recognition:
ASHA Continuing Education Award (December 2002-2017)
Outstanding Public Service in the Field of Autism, Autism Society of Maine 2003
Professional Memberships:
American Speech, Language, Hearing Association
Asperger Association of New England Association
Autism Society of Maine
Learning and the Brain Organization
Global and Regional Asperger Syndrome Partnership