Telepractice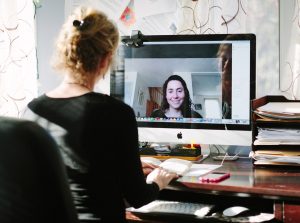 Telepractice is the application of telecommunications technology to the delivery of speech-language pathology at a distance by linking clinician to client/patient or clinician to clinician for assessment, intervention, and/or consultation. Supervision, mentoring, and pre-service and continuing education are other activities that may be conducted using technology (American Speech and Hearing Association).
Telepractice venues include schools, medical centers, rehabilitation hospitals, community health centers, outpatient clinics, universities, clients'/patients' homes, residential health care facilities, childcare centers, and corporate settings. There are no inherent limits to where telepractice can be implemented, as long as the services comply with national, state, institutional, and professional regulations and policies.
Recognizing that many people in Maine who need speech-language treatment face significant access challenges, given the state's large rural areas, shortage of qualified speech-language pathologists, inadequate or costly transportation and inclement weather during winter months, Ms. Reardon sought to offer teletherapy to clients. She became certified as a teletherapist through Waldo County General Hospital in Belfast Maine (coincidentally, her first place of employment as a speech pathologist) and the National Center of Telepractice Training.
Ms. Reardon brings her expertise in Executive Function, social cognition, and pragmatic language via a high-speed internet connection and a secure web platform.  Telepractice services are conducted with interactive audio and video connection in real time to create an in-person experience similar to a traditional therapy session.  When working with a child in their home setting, the parent or caregiver is an integral part of the intervention that promotes generalization of skills.  Similarly, in a school setting, support staff and/or local professionals can attend the telepractice session to better understand the intervention strategies. The strategies can then be used in the school environment to help the child apply the thinking and behavioral skills taught in the telepractice session across the school day.  This method of therapy has also proven to be effective to support and coach college students as they begin to assume responsibility for balancing their academic, personal, and social lives.  They are comfortable with the technology and are motivated to gain skills without having to seek out help on campus in a more public setting.
An additional benefit to teletherapy is the ability to create digital content that can be uploaded for ongoing practice by the client.  If desired, sessions can even be recorded to view later or to show another helping professional.
Wherever possible, Ms. Reardon endeavors to meet with her telepractice clients in person monthly or every other month to monitor, in a natural setting, their progress and ability to engage in the target goals.