Staff
Colleen Foley-Ingersoll, M.Ed., BCBA, has more than twenty years of experience working with children and adolescents with disabilities including autism spectrum disorders in school, home, and clinic settings. Ms. Foley-Ingersoll earned a Bachelor of Science degree in Elementary Education/Moderate Special Education at Northeastern University in Boston, Massachusetts. While completing her undergraduate coursework, she developed a passion for teaching children with autism spectrum disorders.  She then continued her education and earned a Master of Science degree in Early Intervention/Intensive Special Education at Northeastern University. She began her professional career in Special Education as an Assistant and then Lead Teacher at The May Institute in 1992.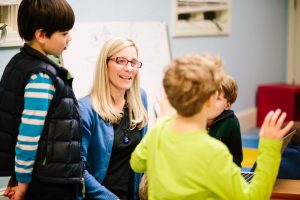 After working at The May Institute for 7 years, Ms. Foley-Ingersoll moved to Maine and was the Director of The REACH School at Child Development Services. While working at The REACH School, she continued her studies, completed the Applied Behavior Analysis Course Series at Florida Institute of Technology's Graduate Professional Development program and became a Board-Certified Behavior Analyst (BCBA). During her time at the REACH school, Ms. Foley-Ingersoll became interested in the SCERTs Model® developed by Dr. Barry Prizant and Social Thinking® developed by Michelle Garcia Winner. She attended conferences in Social Thinking and worked closely with Lucia Reardon, MA, CCC-SLP, a specialist in social cognitive therapy, for over 10 years.
In 2013, Ms. Foley-Ingersoll joined Ms. Reardon's clinic to teach both social cognitive and behavioral skills to children in the Flexible Interactive Thinking™ (F.I.T.™) social cognitive groups, which were established by Ms. Reardon in 2008. In January 2014, Ms. Foley-Ingersoll joined the Woodfords Family Services team as a BCBA in the Westbrook and Topsham Preschool Programs. She continues her work with Woodfords Family Services as well as her group and individual social and behavioral work at the clinic with Ms. Reardon.