Recommended Reading about Asperger Syndrome and Related Diagnoses, Social Cognition and Executive Functioning Skills
A Politically Incorrect Look at Evidenced-Based Practices and Teaching Social Skills, by Michelle Garcia Winner
Winner advises present education system is ill-suited to meet the needs of students who are diagnosed with autism, Asperger's Syndrome, PDD-NOS, Nonverbal Learning Disorders and others/ Advocates for  more thoughtful alternative to behaviorally-based social skill `training' approaches, which are limited in honoring the complexity of individuals with ASD
Asperger Syndrome and Adolescence: Helping Preteens and Teens Get Ready for the Real World, by Teresa Bolick, Ph.D.
Strategies to help 10- to 18-year olds achieve happiness and success by maximizing the benefits of Asperger syndrome and minimizing the drawbacks; Includes how to work with schools to get the help the child needs, turn common AS traits like preoccupations and routines into positive strengths, help the AS teen learn to manage unforeseen glitches with grace and ways to talk to AS teens about friendship, love, romance and sex
Asperger Syndrome Employment Workbook: An Employment Workbook for Adults with Asperger Syndrome, by Roger N. Meyer
Workbook and self-paced guide for mature adults with Asperger Syndrome that assists the reader to compose his/her autobiographical work history based upon understanding the impact of Asperger Syndrome on their employment experiences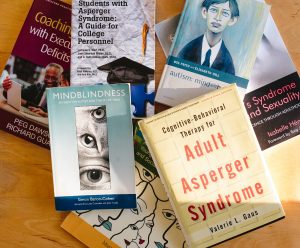 Autism: An Introduction to Psychological Theory, by Francesca Happe
Concise overview of current psychological theory and research/ Synthesizes the established work on the biological foundations, cognitive characteristics and behavioral manifestations of autism
Autism: Explaining the Enigma, 2nd Edition, by Uta Frith
Classic account of autism/ Outlines recent developments in neuropsychological research
Cognitive-Behavioral Therapy for Adult Asperger Syndrome (Guides to Individualized Evidence- Based Treatment), by Valerie L. Gaus, Ph.D.
Resource for therapists that provides research-based strategies to address the core problems of Asperger syndrome (AS) and help clients manage frequently encountered co morbidities, such as anxiety disorders and depression/Provides detailed case examples illustrating complexities of AS and challenges it presents in daily life, relationships and the workplace
Different Minds: Gifted Children with Ad/Hd, Asperger Syndrome and Other Learning Deficits, by Deirdre V. Lovecky
Insight into the challenges and benefits specific to gifted children with attention difficulties/ Guides parents and professionals through methods of diagnosis and advises on how best to nurture individual needs, positive behavior and relationships at home and at school
Executive Skills in Children and Adolescents, A Practical Guide to Assessment and Intervention, 2nd Edition, by Peg Dawson, Ed.D. and Richard Guare, Ph.D.
Manual/guide that provides practical guidelines and tools to promote executive skill development through environmental modifications, individual instruction, coaching and interventions/ Includes checklists, questionnaires, planning sheets and assessment tools
Helping Children with Nonverbal Learning Disabilities to Flourish: A Guide for Parents and Professionals, by Marelyn Martin,
Comprehensive developmental profile of children with NLD and inspiring story of author's daughter, Sara, diagnosed with NLD/ Practical advice on NLD at home and at school and step-by-step interventions for improving a range of skills from penmanship to social acumen
How to Find Work That Works for People with Asperger Syndrome- The Ultimate Guide for Getting People with Asperger Syndrome into the Workplace (And Keeping Them There!), by Gail Hawkins
Guides readers through entire process of gaining employment, from building a supportive team, identifying and addressing workplace challenges, to securing an appropriate post/ Includes practical tips on topics such as finding potential employers and creating strong CV, as well as sensitive advice on assessing when somebody is ready for work and how, when and where to disclose a disability to an employer
Lost At School, by Ross W. Greene, Ph.D. 
Approach for understanding and helping behaviorally challenged kids who lack the skills to behave adaptively and instead receive ineffective, punitive interventions/ Introduces Collaborative & Proactive Solutions approach to help adults focus on true factors contributing to challenging classroom behaviors and empower educators to address these factors and create helping relationships with their most at-risk kids
NLD from the Inside Out: Talking to Parents, Teachers and Teens about Growing Up with Nonverbal Learning Disabilities, by Michael Brian Murphy
Written by and for young adults with NLD and their parents, teachers and therapists/ Presents useful tips, strategies and insights into living with NLD in the voices of those who experience it
Smart but Scattered: The Revolutionary "Executive Skills" Approach to Helping Kids Reach Their Potential, by Peg Dawson, Ed.D. and Richard Guare, Ph.D.
Empowering approaches, activities and techniques to boost child's executive skills, get organized, problem-solve daily routines, stay focused and control impulses and emotions
Taking Charge of ADHD: The Complete Guide for Parents, by Russell Barkley
Resource for parents that provides science-based information about ADHD and its treatment,  proven eight-step behavior management plan specifically designed for 6- to 18-year-olds with ADHD and encouragement, guidance and practical tips
The Complete Guide to Asperger's Syndrome, by Tony Attwood
Handbook that draws on case studies and personal accounts and includes chapters on the diagnosis and its effect on the individual, the perception of emotions in self and others, social interaction, including friendships, long-term relationships, teasing, bullying and mental health issues and the effect of AS on language and cognitive abilities, sensory sensitivity, movement
The Hidden Curriculum: Practical Solutions for Understanding Unstated Rules in Social Situations, by Brenda Smyth Myles, Melissa L. Trautman and Ronda L. Schelvan
Practical suggestions and advice for how to teach and learn those subtle messages that most people pick up almost automatically but that have to be directly taught to individuals with social-cognitive challenges, including those on the autism spectrum
The Relationship Development Intervention (RDI) Program and Education, by Steven Gutstein
Practical solutions on how to accommodate and work with kids on the spectrum
The Source for Nonverbal Learning Disorders, by Sue Thompson
Demystifies the nature and needs of children with Nonverbal Learning Disabilities/ Manual for the identification and treatment of children and youth with NLD/ Filled with useful checklists, anecdotes, methods and resources
The Whole Brain Child: 12 Revolutionary Strategies to Nurture Your Child's Developing Mind, by Daniel Siegel, M.D., and Tina Payne Bryson, Ph.D
Provides practical parenting strategies to help children thrive based on scientific research in developmental neuroscience. This easy to read book explains the child's developing brain and how to promote horizontal integration of the right and left hemispheres and vertical integration of the "upstairs" and "downstairs" of the brain in everyday situations to promote sensitive problem solving  and emotional control in your child.